...and the 2014 River Management Awards go to...
The River Management Society (RMS) congratulates winners of the 2014 River Management Awards, individuals who have exhibited outstanding achievement and leadership among river professionals in their stewardship of our rivers. Here are this year's awardees, nominated by their peers and reviewed by the RMS Awards Committee: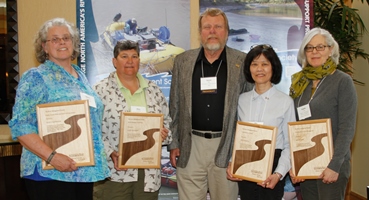 River Manager of the Year - Mary Crockett, Congaree Land Trust, RMS-Southwest Chapter President
Contribution to the River Management Society - Risa Shimoda, RMS Executive Director
Contribution to River Management - Bob Martini, retired, Wisconsin Department of Natural Resources
Frank Church Wild and Scenic Rivers Award - Nancy Schweiger, U.S. Forest Service, retired
Join us in applauding this year's winners. These honors, open to both members and non-members, represent the highest form of peer appreciation. Nominations are submitted by individuals from the river management community, and the selections are made by a committee of RMS members led by the National Secretary.
River Manager of the Year - Mary Crockett (Columbia, South Carolina)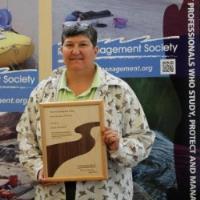 Following her retirement from South Carolina Department of Natural Resources as River Manager, Mary joined the staff of Congaree Land Trust, where she now serves as Land Protection Director. For thirty years, Mary has been instrumental in protecting lands adjacent to South Carolina rivers, conserving natural wetlands, and educating future generations about the importance of protecting our waterways. Mary's many accomplishments include: multiple successful grants secured ensuring over 25,000 acres of conservation easements are in place; over 25 miles of river corridor protected and recognized with National Recreation Trail status and/or Blue Trail designation; and well-trained staff and volunteers that monitor conservation easements. Mary has instructed children and adults in watercraft safety at multiple events across the state, offered many presentations about SC rivers and river issues, and published 8 Baseline Documentation Reports.
Her roles with RMS began as an active Southeast RMS chapter member in 2000, and as Southeast Chapter President for seven years. She has been a "mover and shaker" with chapter officers across the country, encouraging them to conduct annual float trips, membership drives, and promotion of RMS as an organization, and she has been a stalwart resource for RMS journal articles. Well-respected among her peers, Mary provides a strong voice for the Southeast chapter and organization as a whole. In addition to her passion for rivers, and her planning and management skills, the board meetings benefit from her talent as a patient, open, direct and sincere contributor.
Contribution to the RMS - Risa Shimoda (Takoma Park, Maryland)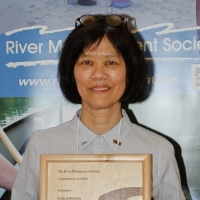 Risa serves as Executive Director for the RMS and although her job performance has been rated by the Board as Excellent, this is afterall, her job. It's Risa's determined commitment and how she goes above and beyond her half-time contract with a can-do attitude to continually develop and promote RMS while always expanding the scope and reach of our organization. In just a two year period of time, she has created significant growth and positive change for the RMS organization. She has provided exceptional contributions to national policy, planning, and program development that impact how RMS protects and enhances river systems by bringing new and improved recognition to RMS as a leader among professional organizations. Her leadership within RMS has created sustainable positive change leading numerous focus groups, representing RMS at agency meetings, continuing fundraising efforts, grant writing, and cheerleading Chapter efforts. She continually donates over and above her normal paid schedule to ensure the success of RMS. She has brought new and positive private and public awareness of the RMS in academia via a new river certification and learning program with participating colleges and universities. She has increased membership substantially, developed and/or located new sources of funding or resources for the RMS. Simply put, RMS would not be where it is today without the work of Risa Shimoda.
Contribution to River Management - Bob Martini (Rhinelander, Wisconsin)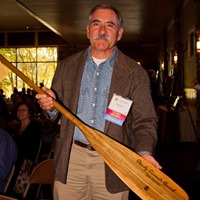 In the early 1970's and subsequent to passing the Clean Water Act, Bob took on the economically powerful and politically influential paper mills that lined the banks of the Wisconsin River where they deposited their waste. He and his colleagues used the law and science to eventually work the paper industry into compliance. Bob convinced industry leaders they could actually make money by not throwing useable product into the river. Sections of river once biologically dead are now healthy and popular recreation stretches. The mills also take pride in the part they played in saving the Wisconsin River. Later in his career, Bob helped his agency reorganize river management in a way that benefitted and highlighted rivers and citizen awareness. Long before citizen water quality data collection was mainstream, Bob advocated his agency to incorporate this to engage citizens. He also urged more forceful promotion of small dam removal projects.
During his career and since retirement, he has been a staunch and consistent advocate with and for many river groups; helping to start up and later lead the River Alliance of Wisconsin, several water and land conservation organizations; and a member of his county board, where he has made water and land conservation a serious topic. At every opportunity, Bob combines his expertise about rivers and river management with an undying passion for flowing waters. He embodies a rare package of scientific knowledge and passion for rivers, making him one of the most credible voices for rivers to the general public in the state of Wisconsin. He was described by one colleage as having a "…dedication to rivers and the public trust that is legendary."
Frank Church Wild and Scenic Rivers - Nancy Schweiger (Gold Beach, Oregon)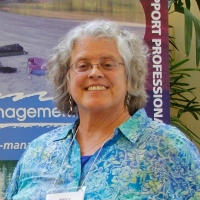 This award recognizes Nancy's ability to resolve challenging issues and advance awareness and stewardship as a river Manager on the Rogue River Siskiyou National Forest of four National Wild and Scenic Rivers - the Rogue, Chetco, Illinois, and North Fork of the Smith. These rivers host over 200,000 visitors annually, and their management includes 80 conservation easements and almost one hundred special use permits. During the final seven years of a 30 year career in natural resources, Nancy changed an adversarial environment (her district was singled-out for "how not to steward Wild and Scenic Rivers," and the Chetco was listed by American Rivers as one of our nation's most endangered rivers) into one that supported the river through improved conservation easement enforcement and support of the non-profit organization "Trash Dogs" to pick up cars, trailers, refrigerators, and other debris. Thanks to Nancy, who recognized that employees needed to spend more time in-the-field stewarding the lands they administered, employee time on the water increased by fifty percent, and so too did on-the-ground stewardship and compliance.
She was a founder of the Southwest Oregon and Northern California Symposium on Wild and Scenic Rivers held in 2011 to increase understanding of the protection requirements associated with managing Wild and Scenic Rivers. She was a leader of the 2-day "Cherish the Chetco" event in 2012 to promote local awareness and stewardship and featured educational programs and volunteer stewardship projects involving 12 community organizations. In 2013, Nancy served on the steering committee for "Experience the Elk" which promoted stewardship of the Wild and Scenic Elk River.
RMS extends a hearty 'thank you' to the RMS Awards Committee: before the award nominations came rolling in this year, we welcomed two new award committee members Alan Vandiver (retired Forest Service) and Bo Shelby (Oregon State University). These new members, together with existing committee members from Washington D.C., Alaska, Colorado, and Idaho helped to round out representation across the country.
To individuals who submitted nominations, and to the RMS Awards Committee members who have dedicate many hours of thoughtful consideration to the annual awards process: thank you!
Congratulations again to all honorees!