River Management National Training
Every other year, the River Management Society hosts an international training on topics related to river management and planning. They provide a forum for the exchange of ideas and the vetting of policies and strategies concerning river management, and encourage the formation of networks and partnerships among a broad range of river professionals. Proceedings and other RMS publications are available to members and other participants.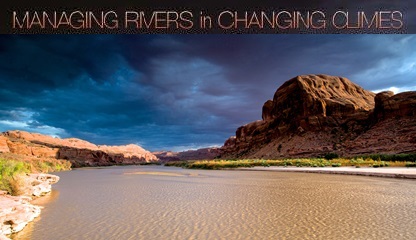 Managing Rivers in Changing Climes: Training Future River Professionals
April 14-18, 2014 Denver, Colorado
Registration is open. Visit the registration site for details, prices and more...
Join us at the 12th biennial River Management Society week of training for agency managers, planners, watershed and watertrails practitioners, where you can update skills, planning tools and best practices to your desk or field-based job. This is an invaluable networking opportunity for those who study, teach and practice river skills and policy for agencies, non-profit organizations and private industry. PLUS: This year we offer a standalone Continuing Legal Education workshop, a one day seminar approved by the Association of Floodplain Managers, and a multi-day workshop taught by the Federal Energy Regulatory Commission (FERC) regarding FERC Form 80
Posters are still being accepted: you are cordially invited to submit an abstract here. See below for poster submission information.
Scholarships are available to members (for a year or more) in good standing. Apply here!
Click here for more information
Training Packages
One Day Trainings (Stand alone)

Legal - Continuing legal education conference* presented by CLE International

Floodplain Management - Seminar approved by the Association of State Floodplain Managers (ASFPM)**
Full RMS Event: April 15-17, 2014
Full RMS Event plus FERC Form 80 Training***: April 15-18, 2014
FERC Form 80 Training, standalone: April 16-18, 2014
*CLE International is pleased to offer a one-day stand-alone educational conference. Join us on Monday, April 14 for a full day of in-depth analysis of legal issues that are most important to professionals tasked with protecting and managing our nation's rivers. Attendees will receive up to seven hours of continuing education credits while learning from leading experts. Tuition discounts available for RMS members, government and 501(c)(3) employees, and groups of two or more from the same organization. For program, pricing and registration, visit http://www.cle.com/RMS beginning January 3, 2014.

** This one day standalone training will feature five courses approved by the Association of Flooplain Managers (ASFPM) and approved for ten (10) CECs. Register for this standalone course on the RMS event site, to open by December 18, 2013.

*** This workshop entitled Getting the Most out of the Form 80: Tips for Quantifying Recreation Use & Gathering Better Data will be taught by Federal Energy Regulatory Commission staff and can be attended as a stand-alone workshop or as part of the full RMS training event. Registration for this workshop is on the RMS training event site, to open by December 18, 2013.
Past Symposium Programs
2012 Symposium Program - Here is the program from the 2012 River Management Symposium held in Asheville, North Carolina: