Northeast
Welcome to the Northeast Chapter of the River Management Society!
Our goal is to further the RMS mission by providing a network for members to expand their knowledge of river management through participation and involvement in RMS-Northeast Chapter activities.

Our members hail from the Mid-Atlantic states of Maryland, DC, Pennsylvania, Delaware, New Jersey and New York up through the New England states: Connecticut, Massachusetts, Rhode Island, New Hampshire, Vermont and Maine. We represent a variety of professionals in the private and public sectors, from federal, state and local agencies to edicational non-profits and consultants.

Our fascinating range of expertise includes geomorphologic design, economic modeling, hydropower relicensing, and whitewater course development. In 2011, RMS-NE partnered with the Northern Forest Canoe Trail, hosting webinars in support of their effort to educate watertrail users about aquatic invasive species.

Chapter Bylaws explain how the RMS-Northeast Chapter guides our operation. Chapter accomplishments are many and we think you'll be interested in attending chapter activities such as those we produced in 2009 -2011.

The most recent RMS newsletter with a Northeast Chapter focus is Fall 2011, Volume 24, No. 3. You can view the most recent RMS newsletter by clicking here. All journal back issues are archived online, available with other Society publications on the members-only side of the website.
Chapter Officers

All professional members are eligible to run for office, for which they will serve a three-year term. Candidates should familiarize themselves with the Chapter Officer Roles and be willing to be an active participant. Contact any Northeast Chapter officer to contribute to regional or national RMS activities.
Currently, officer positions are vacant. Contact Risa Shimoda, Executive Director if you or others are interested in being part of the leadership for this exciting region!
2013 RMS-Northeast Chapter Trip is on for September 28-29
The Great Egg Harbor River Council, in partnership with Atlantic County Parks, is pleased to invite the North East Chapter of the River Management Society (RMS) and Friends to an overnight camping and paddle event on the Great Egg Harbor River in New Jersey. (You do not have to be an RMS member to attend).

The trip will include 2 separate short paddle tours of the Great Egg Harbor River. The Great Egg Harbor River is often touted as the longest canoeable river in New Jersey, and its wide flood plains and winding morphology present both hidden beauty and unique challenges for paddlers new to outer coastal plain rivers. Plus, 129 miles, including 17 tributaries, were federally designated as Scenic and Recreational Rivers in 1992.

The first event will be a 3 hour downstream tour on Saturday September 28 from 1:00 PM to 4:00PM, and a second 3 hour tour will be offered on Sunday September 29 from 9:00 AM to Noon.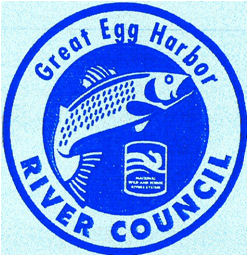 The Great Egg Harbor River Council will be sponsoring the event, and group camping facilities at Atlantic County's Camp Acagisca will be provided for Saturday, Saturday night, and Sunday at no charge. Group outdoor dinner on Saturday night ($10) and breakfast Sunday morning ($5) will be available, cooked and served by River Council volunteers. Boat rentals are available from a local livery raging from about $35 to $50 depending on what you rent, and there could be transportation charges of $7 for a rental or $12 if you bring your own boat for Sunday's trip.

Great Egg Harbor River Administrator Fred Akers is coordinating the event, so please register with Fred and let him know what time you plan to arrive, if you will need a boat, and if you have any questions or special needs for the trip. Fred's contact information is:

Office Phone: 856 697 6114 / Cell Phone: 609 335 3744 / Email: fred_akers@gehwa.org Click here for trip logistics.
**********
Articles of interest / input requested: Comments on the attached report on the economic impact of invasive species are welcome! Contact information was provided through the RMS Listserve 1-6-2013: members can look in the listserve archive for that notice.