Northeast
Welcome to the Northeast Chapter of the River Management Society!
Our goal is to further the RMS mission by providing a network for members to expand their knowledge of river management through participation and involvement in RMS-Northeast Chapter activities in Maryland, Washington, DC, Pennsylvania, Delaware, New Jersey and New York up through the New England states: Connecticut, Massachusetts, Rhode Island, New Hampshire, Vermont and Maine. We represent a variety of professionals in the private and public sectors, from federal, state and local agencies to edicational non-profits and consultants.

The impressive range of expertise among our members includes geomorphologic design, economic modeling, hydropower relicensing, and whitewater course development. RMS-NE has partnered with the Northern Forest Canoe Trail, hosting webinars in support of their effort to educate watertrail users about aquatic invasive species, and has offered annual chapter trips that have served as the basis for lasting professional partnerships.

Chapter Bylaws explain how the RMS-Northeast Chapter guides our operation. Chapter accomplishments are many and we think you'll be interested in attending chapter activities such as those we have hosted in the past.
The most recent RMS newsletter with a Northeast Chapter focus was Spring 2016. All journal back issues are archived online, available with other Society publications on the members-only side of the website.
Marina Metes (MD) - President mjmetes@gmail.com

Paul Beaulieu (MA) - Vice President PGBeaulieu@tighebond.com

Lelia Mellen (VT) - Outreach Coordinator lelia_mellen@nps.gov
Contact any Northeast Chapter officer to contribute to regional or national RMS activities!
2016 Northeast Chapter Trips
COMING UP
Anacostia River, MD/DC - October 23, 2016 (warm up activities on October 22nd) - Registration is open!
Saturday, October 22 - For those visiting from out of town and others who are interested, we will be at the REI DC Flagship Grand Opening and Block Party!
Sunday, October 23 - Prepare to be surprised and delighted to see the tremendous turnaround taking place on the Anacostia River these days!
RMS-NE Chapter member, past River Manager of the Year and Chief, Recreation and Outdoor Recreation for the National Park Service Bob Ratcliffe (see his bio below) will join us for a paddle from Bladensburg, MD to the Kenilworth Aquatic Gardens and National Arboretum. We'll hear from Bob and other chapter colleagues about the commitment and investment that have stirred tremendous change. We will also discuss the continued improvement that lies yet ahead for what was for decades given up as irreparably damaged along the waterfront that is now DC's real estate development and public engagement hotspot. Bring your own boat to paddle, or rent from the Bladensburg rental facilities for a fee of $26 for the day ($20/day for residents of Prince George's County).
Schedule for Sunday, October 23:
10:45 am - Meet at Bladensburg Waterfront Park, 4601 Annapolis Rd, Bladensburg, MD 20710 for introductions and to set up rentals. We will launch no later than 11:30 am
11:30 am - Paddle downstream to the National Arboretum
12:15 pm - Arrive at the National Arboretum and stop for snacks and a yummy lunch with drinks, provided by RMS
1:30 pm - Paddle back upstream (with help from the rising tide) to Kenilworth Aquatic Gardens. The tide will be high enough to paddle in from the river and restrooms are available here
3:00 pm - Arrive back at Bladensburg Waterfront Park
3:15 pm - Enjoy post-paddle beers at a local brewery, DC Brau, 3178 Bladensburg Rd NE B, Washington, DC 20018
BOB RATCLIFFE is the Division Chief for the National Park Service's Conservation, Recreation and Community Assistance Programs and oversees a portfolio that includes the widely recognized Recreation, Trails and Conservation Assistance Program, National Trails and National Rivers programs among others. These partner and community based programs help fulfill the NPS mission in working with partners to extend the benefits of parks, recreation and conservation to communities across the country. Previously, Bob served 24 years for the Bureau of Land Management in a variety of field and national leadership roles including over a dozen years as Deputy Assistant Director for Resources and Planning, and Division Chief for the National Recreation and Visitor Services Program.
He has spent much of the last three decades developing new and progressive national policies enhancing visitor experiences and community engagement while balancing protection of resources. He has helped lead the development of urban, youth, recreation, health and other and proactive policies and strategic efforts for the NPS, the Department and the White House. His background blends a range of public agency, educational and private sector experience as a Congressional Fellow, Outward Bound instructor, researcher and instructor, public engagement specialist, NPS ranger, river manager, community planning and resource conservation consultant. He regularly enjoys many other outdoor activities with his family – especially running rivers in just about anything that floats.
Here is a map of the Anacostia Water Trail
Please respond by October 20 so we can give the boat rental folks a heads up and have time to shop for lunch! Here's the NE Chapter Anacostia River Trip Registration Form.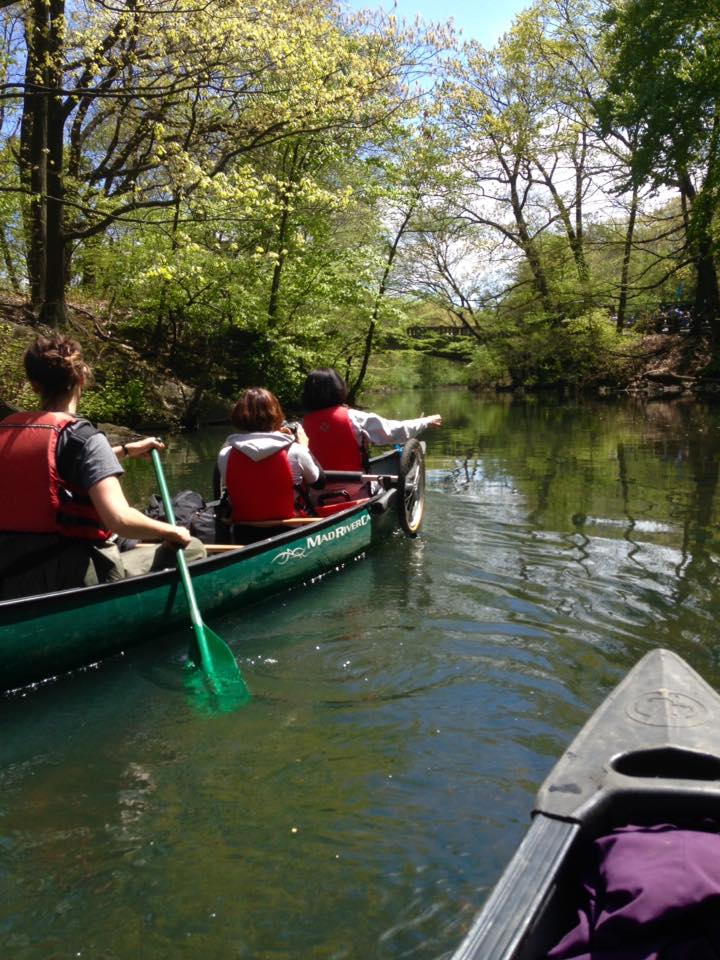 Bronx River Trip - NY, Bronx River Alliance-led paddle and visit to Bronx River restoration site, April 30.
The day began in Westchester County, NY; we visited one of RMS member John Field's field sites where he is helping the county identify options to reduce erosion hazards along the Bronx River Parkway. One possible solution could involve re-routing the river through an abandoned channel that has since filled in with woody debris and sediment.
The Bronx River Alliance then organized a paddle on 8 miles of the Bronx River Blueway, a designated National Water Trail System. The Bronx River Alliance led us on a trip through the New York Botanical gardens, the Bronx River Forest, cityscapes and the Bronx Zoo. The Blueway (and trip) began at 219th Street and ended at River Park, where we then shuttled back via subway!
2015 Northeast Chapter Trips
National Board Meeting Piscataqua River Trip - NH, October 11-12
Missisquoi River Trip - VT, June 27-28 (after Pedal / Paddle Race)
"Celebrate the Mississquoi!" with the Northeast Chapter!
The Missisquoi River in northern Vermont recently became Vermont's first Wild and Scenic River. It is also one of the rivers that comprise the Northern Forest Canoe Trail (NFCT). On Saturday, June 27 the NFCT collaborated with the Town of Richford's Conservation Commission to put on a River Fest and a Paddle & Pedal Race. The Paddle Pedal Race involved a 6 mile paddle and a 5 mile bicycle ride on the Missisquoi Valley Rail Trail. The local library hosted a BBQ afterwards, and RMS Executive Director Risa Shimoda was the guest speaker at the River Fest event.
After the race the NE Chapter, led by member Walter Opuszynski paddled downstream and stayed at an official Northern Forest Canoe Trail campsite, enjoying a campfire and cameraderie as we learned about the river improvements that have been completed, challenges that have been overcome along the way, and future river management efforts. On Sunday we paddled approximately 8 miles to the town of Enosburg Falls.
2014 Northeast Chapter Trip - Connecticut River (NH, VT)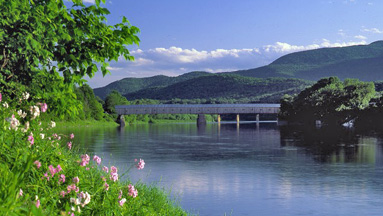 Join RMS-NE Chapter for a trip on the Connecticut River! On Saturday, October 4, paddled 7 miles from Cornish, NH Boat Launch to Wilgus State Park, VT. Along the way and at a group dinner, heard from the RMS members and other regional experts about the river management topics that both define the river today and which will impact the watershed immensely in the years to come. Here are our special guest experts:
Thomas J. Christopher, RMS Member - Mr. Christopher is a founding director and current Secretary of New England FLOW, the first organized coalition of recreational boating groups in the northeast. In addition, he is a former board member of American Whitewater, serving for 14 years and was its Conservation Chair from 1997 until 2004. He helped to organize the Hydropower Reform Coalition (HRC) in Washington, D. C. in 1991, and sits on the HRC Steering Committee, pursuing changes in hydropower policy and rulemaking through the FERC relicensing process. He is a signatory to multiple FERC relicensing settlement agreements throughout New England and is currently working on the relicensing of five dams on the Connecticut River in Vermont and Massachusetts.
Andrew Fisk, Ph.D., Executive Director, Connecticut River Watershed Council - Prior to joining CRWC in 2011 Andy served as Director of the Land and Water Quality Bureau at the Maine Department of Environmental Protection for seven years. As Maine's land and water quality director, Andy worked with municipalities, industry, and citizens to develop, finance, and implement clean water requirements that eliminated algae blooms, sewer overflows and maintained stream and river flows. He was also actively involved in enacting and implementing scientifically-based protections for hundreds of thousands of acres of significant wildlife habitats for tidal and inland waterfowl as well as protections for vernal pools.
Norman Sims, Ph.D. - Norman recently retired as an honors professor at the University of Massachusetts Amherst. He was a founding member of New England FLOW in 1988 when dams on the Deerfield River in Vermont and Massachusetts came up for relicensing. He later spent 12 years on the Board of Directors of the Appalachian Mountain Club, including several years as chair of the AMC Conservation Programs Committee. Along with Tom Christopher of FLOW and Ken Kimball of the AMC, Norm has worked on several hydropower relicensings in New England. As a volunteer, Norm currently represents the AMC in relicensing five hydropower facilities on the Connecticut River. He is also writing a book on the history of the North American canoe.
Thank you Lelia Mellen, Paul Beaulieu for coordinating the trip, and others for attending!
2013 Northeast Chapter Trip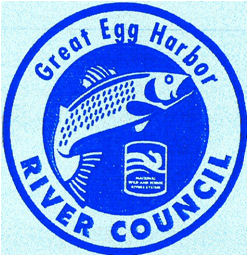 The Great Egg Harbor River Council, hosted the North East Chapter of the River Management Society (RMS) and Friends to an overnight camping and paddle event on the Great Egg Harbor River in New Jersey September 28-29, 2013.. The trip featured two separate short paddle tours of the Great Egg Harbor River, often touted as the longest canoeable river in New Jersey: its wide flood plains and winding morphology present both hidden beauty and unique challenges for paddlers new to outer coastal plain rivers. In addition: 129 miles, including 17 tributaries, are federally designated as Scenic and Recreational Rivers in 1992. The Great Egg Harbor River Council sponsored the event, and group camping facilities at Atlantic County's Camp Acagisca was provided for Saturday, Saturday night, and Sunday at no charge. Great Egg Harbor River Administrator Fred Akers coordinated the event, Thank you, Fred!!