The National River Recreation Database lives! Visit NationalRiversProject.com to explore the hundreds of rivers and access points housed in the NRRD.
Throughout 2015 and 2016, River Management Society has worked with partners from the National Park Service, United States Forest Service, Bureau of Land Management, Tennessee's State Parks and Water Trails, American Whitewater, non-profit organizations, and local river managers to coordinate river data collection across the United States.
Coordinating the selection of information fields has been a collaborative effort amongst several organizations and we're fortunate to be partnering with so many great people.
---
Getting Involved!
We're excited to announce that we are now able to seek donated data for inclusion in the National River Recreation Database and National Rivers Project website.
How You Can Help
Data Partnerships! River Management is seeking partnerships from all types of organizations to collaborate on 'filling in' the map as much as possible with recreational river reaches and associated information. If you are a river manager, municipal agency employee, GIS specialist, or someone associated with an organization who manages data for a particular section of river (water trail, Wild and Scenic River, whitewater section, etc.), and feel that your river would fit into the NRRD, we would love to speak with you.
We are developing 'tiers' of data partnership based on what you or your organization is able to (or comfortable with) contributing. Spatial data and attribute data are equally important. RMS is committed to maintaining accuracy in the NRRD, and it is our goal to establish and maintain an on-going relationship to ensure that data in the NRRD is accurate and up-to-date.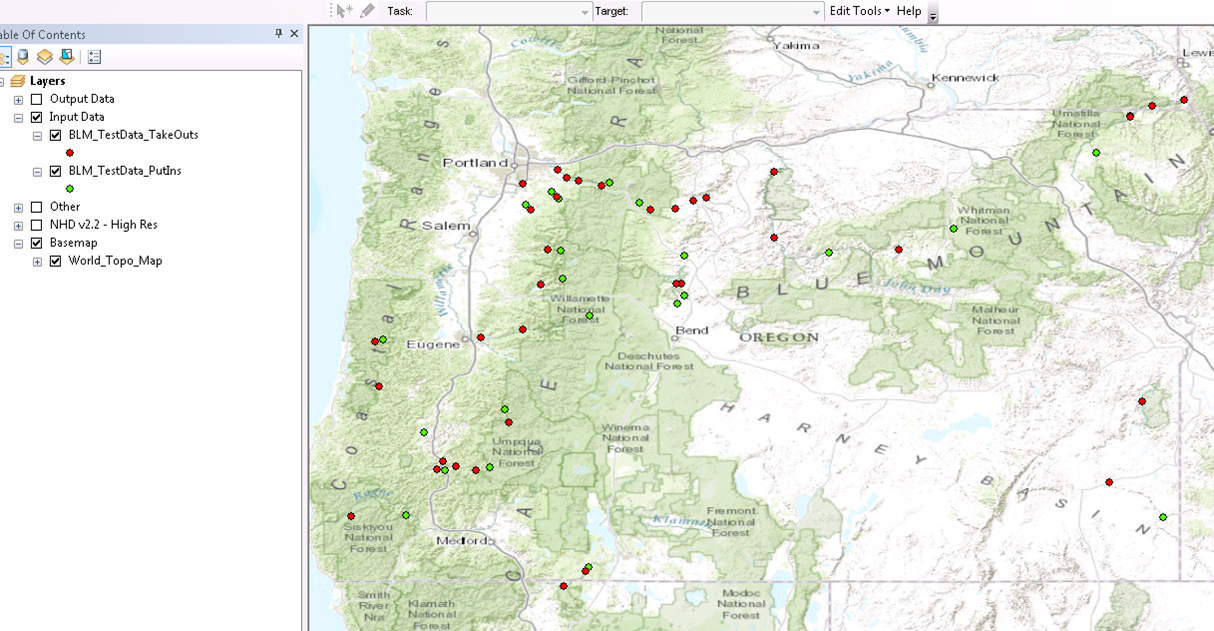 (Donated data being processed for addition to NRRD)
---
Benefits of Contributing to the National River Recreation Database
The National River Recreation Database is and will continue to be a first-stop resource for paddle trip planning. A benefit of the National Rivers Project website is that it brings local water trails and recreational river segments to a larger audience. The goal of the National Rivers Project is to increase visibility and use for Water Trails, Wild and Scenic Rivers and Whitewater sections. The NRRD pulls together spatial and attribute data for a wide variety of types of river segments, and provides that information to the public in a user-friend form.
By donating your data to the NRRD, you're joining an extensive database of river segments with associated recreation attributes. Much like one might 'surf' the internet from website to website, the National Rivers Project makes it easy for a river 'shopper' to easily learn about multiple rivers that are geographically similar, query on difficulty, and see other recreational opportunities that might exist nearby. With your data hosted on the NRRD, users can easily find information on your sections and might include a visit if going to that region.
Please contact us at executivedirector@river-management.org for more information.